Kuk Sool Won Master Darren Hart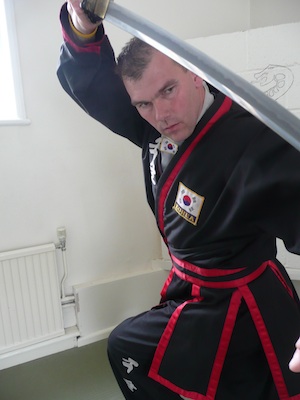 I bumped into the six foot five inches Darren at the MAF show in Leicester, "Gerard Turvey said that you might be interested in interviewing me…"  I had been looking to interview an interesting Korean martial arts practitioner for some time and as a Kuk Sool Won Master, tournament champion, personal fitness instructor  and gym manager at Lakenheath Airbase, worldwide seminar instructor, budding actor, and male model Darren looked an interesting prospect.
If you want to know more about gym training routines, what Kuk Sool Won is and Darren's personal progress through the arts and media, read on…
SR  Hi Darren, can tell the readers a bit about yourself before you got in to the Martial Arts?
DH  Hi Steve, I was born in Bury St Edmunds moved to Mildenhall and went to school there in the village, moving on to a normal secondary education.
SR  What was you like at sports?
DH  I wasn't too bad at rugby, played goalkeeper at football and was softball team captain.
SR  How did you get into the Martial Arts?
DH  When I was 11 years old I started in Kuk Sool Won under the tutelage of Master Stephen Isaacson in Mildenhall, from the start I knew that was what I wanted to do for the rest of my life.
SR  What got you into the club in the first place?
DH  I was just walking past, saw them training and just thought I'd give it a go.
SR  How far had you progressed buy the time you left school?
DH  I left school in '87 and in '88 I took my 1st Dan black belt.
SR  How did you get in to RAF Lakenheath?
DH  I originally worked for the transportation squadron and because the gym on base was so good and I used it so regularly I was offered the job of dealing with the supplies for the gym, I then undertook training by the MOD as a fitness instructor and became a personal trainer, a specialist for the military and eventually became the fitness manager for the gym.  I've had an 18 year career in fitness and martial arts at the World class facility, Lakenheath  gym.
SR  What made you consider leaving?
DH  Discussions over the years with Gerard Turvey of NEST Management.  I feel that I've gone as far as I can go in the gym and feel that it's time to focus on a Martial Arts career.
SR You're obviously a very fit guy, how did you find the fitness training helped your martial arts?
DH  I was lucky being at Lakenheath because I had all the latest equipment and fitness knowledge constantly coming over from America.  It is a world-class facility.  The knowledge I gained on flexibility, cardio vascular training, strength training, what works with what and sports specific training from the American sports colleges and universities really helped my progress.
SR  Do you have any advice for the readers who are always asking about different gym training programmes to help their martial arts training?
DH  I was using a strength training routine, but in the end my cardio suffered because I was putting on too much size.  I was bench pressing 450 pounds and putting on a lot of size, but this was having a negative effect on my martial arts forms, flexibility and speed.  I cut back on the strength and concentrated more on the cardio like rowing, running and stair climbing.  I also focused more on the flexibility and stretching. 
I found that the best training for my martial arts was bodyweight exercises like pull ups, dips and push ups.  Many people can bench press huge weights but can't lift their own bodyweight 10 times over a bar.  They often focus too much on the pushing action and neglect the pulling.  In Kuk Sool Won we also do extensive hand training like push ups on the fingers and knuckles etc.
SR  So you devised a training routine specifically for the Martial Arts?
DH  Yes.  First thing in the morning I'd go straight to the pull up bar and do 5 sets of pull-ups.  At lunchtime I'd work on my martial arts techniques like forms, weapons and flexibility.  After work I'd do either strength or cardio and I've done that for 18 years.
SR  What kind of cardio do you do?
DH  I love running, but being six foot five and 18 stone meant that I put a lot of trauma through the joints.  I listened to my body and now use the Stairmaster a lot – for a fitness test on the base we'd give the 3 minute Stairmaster test with the metronome and monitor the heart rate afterwards.  I do it for 40 minutes at a time.  I'd use the concept 2 rowing machine, row 500 metres in 1 minute 35 seconds, take a 45 second rest and then keep repeating.  In 2004 I won the fitness test at the SENI martial arts show.
SR Kuk Sool Won is a very traditional style and seems to be big in America, was that an advantage being at Lakenheath?
DH  That's right.  One the advantages to being on an American air base is that Kuk Sool Won is really big in America, particularly on the military bases, so with the constant transfer of military personnel to and from Lakenheath, they could fit in easily to my classes.  I've taught 104 people to black belt on the base.  Our school has also been very successful in tournaments winning 'best school in Europe, in 2007 and 2008.
SR  What grade are you now?
DH  I went to Poosang in Korea for the World Championships in 2005 and was graded 5th Degree Master there.  At that time I was the youngest 5th Degree Master in Europe at 34 years old.
SR  Can we talk about Kuk Sool Won tournaments?
DH  They started over here in 1991 with one tournament a year, but now we have 5 in Europe each year, one in Spain, one in Scotland, a European championship, one in the England and one in Amsterdam. 
What I have noticed is how much it's boosted the confidence of some children in my classes, they are too embarrassed to stay on the mat for the whole class and once they've competed it seems to change them completely.  One child who was really shy recently won a silver and gold in the British tournament and is now giving demonstrations in front of 500 people!
SR  What kind of events are there?
DH  If you're under brown belt there are 3 different types of events that you can take part in.  Kuk Sool Won have a progressive syllabus of joint locks and pressure points and the students can pick 3 self defence techniques that they are learning.  Then there is traditional forms and sparring technique events.
Once you get to brown belt there are 3 other divisions you can take part in; weapons, board breaking and self defence against one or two opponents for between 45 seconds and a minute – it's a practiced routine.
SR  What are the rules for sparring?
DH  In Korea the tournaments are full contact, but in the UK they are semi contact.
SR  I see you've competed in a lot of open tournaments, how did you get on with them?
DH  You can see from my record that I did well, it was an experience to compete against other arts and styles and broadened my outlook.
SR  How did you get the 'Best European Martial Arts School' award?
DH  We get points for each medal won at the European tournament and the Grand Master awards the flag for the club that's won the most points. If we win the award 3 years running we get to keep the flag.
SR  How did you get appointed as the military self defence instructor?
DH  I was teaching on the base and would do special courses and workshops for the security personnel. 
SR  Why was you invited by the GM to teach on his tours?
DH  The Grandmaster made me the European Seminar Director, I travel with the GM on his UK tours and teach at various seminars for him.
SR  I see that your team was picked to do a demonstration for David and Victoria Beckham, how did that happen?
DH  We did a demonstration at SENI and were picked from there, it was when the World Cup was in Korea and David and Victoria were holding a garden party so they invited us to demonstrate, unfortunately I was teaching in America at the time of the party.
SR  How did you get involved in television and the media?
DH  There was a new TV show that was going to be aired on Channel 4 called 'Three Kings', the idea was the '3 Kings' would have to protect the Queen, at first I tried out as a contestant, but when they saw my fitness levels they wanted me to apply as one of the Kings, I did this and was selected to be the 'King of Pain'.  Unfortunately it never got aired.
I was then selected for 'Britain's Got Talent', I made it through 4 auditions and got to the televised stage, Ant and Dec interviewed me and I also did some self defence techniques and board breaking with Stephen Mulhern for 'Britain's got Extra Talent 2'.  As I was the first martial artist to go on the series it opened the door for people like 'Strike'.  At the time they were looking for talent for the Royal Variety Performance and what I was doing wasn't really suitable.
SR  Then you were shortlisted for 'Gladiators'?
DH  I went to the audition and did the fitness test, but wasn't 'bulky' enough, they were looking more for the 'bodybuilder' type than the martial arts athlete, I was doing a lot of cardio and martial arts training at the time.  As a competitor I think I'd have done okay but was the wrong body type for a Gladiator.
SR  How did you get on 'Kingdom'?
DH  It's the 'lawyer series' with Stephen Fry, I belong to a Modeling Agency and they found me a few bits of work that I missed because I was travelling for tournaments and seminars but I was in the UK for the auditions for 'Kingdom' and was selected as one of the supporting actors for the series.
SR  How did you get into modeling?
DH  I had a modeling portfolio put together for my TV Agency work so it's also used for that kind of work as well.
SR  How do you see the future of Kuk Sool Won?
DH  It's grown so much since I've been a part of it, they have a good structured training and competition programme and cater for all kinds of people.  The syllabus includes grappling, striking, pressure points, throwing and a variety of weapons.
SR  Was the standard of Kuk Sool Won better in Korea?
DH  The European teams certainly held their own.  The top 4 places in the 3rd Dan division I was judging were 3 European and one Korean so that speaks for itself.
SR  What was it like training with the Buddhist monks in Korea?
DH  I was so focused on my training , I found it really relaxing.  We had 3 different meditation sessions alongside the training each day – a culture shock but a good one.
The Korean people are so friendly, at 6'5" I'm like a giant among them.  I was asked to do an impromptu demonstration in a park one day and ended up with 600 people watching!  Another day in the park we were just invited to join in a family picnic by people we didn't even know, everyone was just so friendly it was unbelievable.
SR  How do you see your own future now?
DH  I feel that I have a lot to offer with my martial arts, fitness and military  training background, I've looked at new locations for my clubs and am starting in May and June.
SR  You've had a lot of support from NEST Management?
DH  Yes, I met Gerard Turvey of NEST Management around 4 years ago at Kuk Sool Won Instructor Training where he lectured on Club Development and I had a chat with him afterwards, explaining that I was contracted on the airbase  who had their own programmes, so now that I've separated from the military, Gerard was my first port of call and NEST have an excellent operational structure for Instructors and I'm very impressed by them!
SR  Thanks for that Darren and good luck for the future, sounds like you've got a good business and martial arts combination there.
DH  I hope so, we're certainly ready to go!
Related posts:
Tags: darren hart, kuk sool won, Steve Rowe