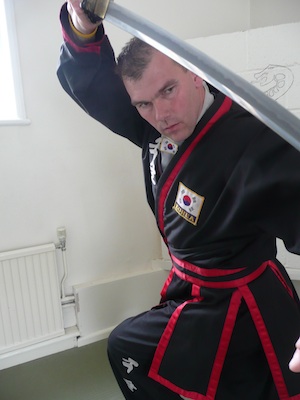 I bumped into the six foot five inches Darren at the MAF show in Leicester, "Gerard Turvey said that you might be interested in interviewing me…"  I had been looking to interview an interesting Korean martial arts practitioner for some time and as a Kuk Sool Won Master, tournament champion, personal fitness instructor  and gym manager at Lakenheath Airbase, worldwide seminar instructor, budding actor, and male model Darren looked an interesting prospect.
If you want to know more about gym training routines, what Kuk Sool Won is and Darren's personal progress through the arts and media, read on…
SR  Hi Darren, can tell the readers a bit about yourself before you got in to the Martial Arts?
DH  Hi Steve, I was born in Bury St Edmunds moved to Mildenhall and went to school there in the village, moving on to a normal secondary education.
SR  What was you like at sports?
DH  I wasn't too bad at rugby, played goalkeeper at football and was softball team captain.
SR  How did you get into the Martial Arts?
DH  When I was 11 years old I started in Kuk Sool Won under the tutelage of Master Stephen Isaacson in Mildenhall, from the start I knew that was what I wanted to do for the rest of my life.