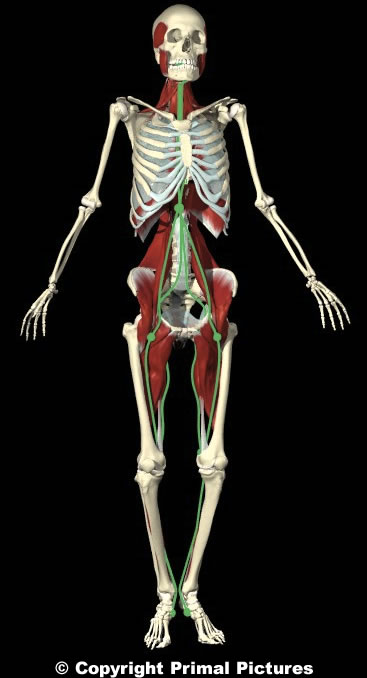 Written in 2009 for The Martial Arts Standard
Welcome to Martial Anatomy 101 where we will explore how this wonderful complex mixture of intricate parts we call 'us' actually works. Under our skin we have a series of different structures that hold us together and allow us move about the world. For simplicity's sake we shall limit our exploration to the bits that hold us up and move us around which are our muscles, bones, ligaments, tendons and fascia that also create the means for us to animate ourselves.
A common misconception is that it is our skeletons that allow us to stand upright, but in truth they are only one component of a far greater whole. If you were to take away all the 'soft' tissue you would find that you'd be nothing more than a pile of sticks (bones) in a bag with a few squishy parts like your stomach, liver and brain, forming a gooey heap on the floor. Our skeletal system on its own has absolutely no structural integrity as a single entity and our ability to 'stand' is only granted by the beautiful way that the soft tissues (muscles, tendons, ligaments and fascia) of the body tie our bones together. Like a suspension bridge, our structure and its integrity are dependent upon the sum of all its parts, therefore any examination of 'Martial Anatomy' will require us to look at a seemingly complex number of parts and how they function and interact with each other.