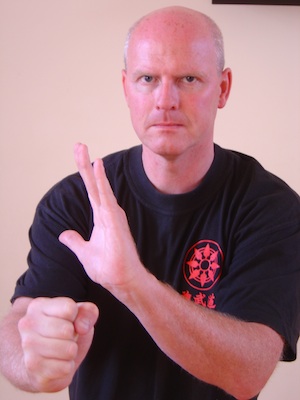 Sensei had always said that splits within groups and clubs should be unnecessary, but just like in families, they still tend to happen.
Sensei always had an "open door" policy so that anyone could go to him and discuss their problems and an amicable solution could be found.  Most students used the facility from time to time and had their problems resolved.
But there's always one.  On the surface Graham was a Club Instructor and a good reliable Karateka, Sensei often praised his capabilities and his teaching abilities for 2nd Dan standard.  The problem was that Graham was encountering great difficulty in getting to 3rd Dan level, he was still far too "strength" oriented with all his power in his chest and arms and very little in his "hara" and legs.
He had been brought up in a very "macho" way, (all women should be kept barefoot and pregnant etc.)and therefore could not understand the concepts of "yielding and flowing", "centering" and how "soft overcomes hard".
Instead of using the "open door" to Sensei's office, Graham decided to split away, but instead of doing this openly, he worked to subvert as many others as possible to go with him. Some fell for the "higher position" and easier grading syllabus in the new group and went with him.
I was approached with statements like: "Sensei introduces too many changes, we are returning to the old values, like good old "hard" Karate training" (joint damage, injurious training, mindless repetition, power from the chest and shoulders and other "macho stuff"). I reminded them that the principles don't change, only the method of coaching improves and was called a "sycophant".
Then I realised that in fact it was all about money.  The deceit, the subversion was only politics to conceal the true reason, Graham had set up his own "mythical" association where everything was a direct copy of Sensei's structure with the exception being that all the money fell into his letterbox, even his own "breakaway friends" had been deceived by his scorpionic lust for a few extra bucks.