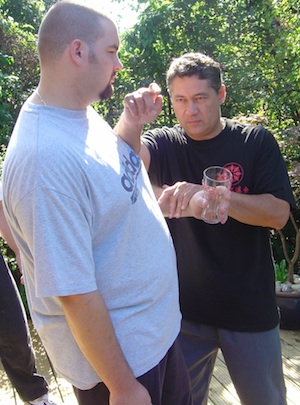 This interview was published in December 2007
Since I started writing these articles for MAI a lot of people have asked me about weapons.  Often they're martial artists who are concerned about getting attacked by someone armed with a tool; either a blunt one or, god forbid, a sharp one.  Any situation, even one involving a weapon brandishing idiot, especially now-a-days, is not to be taken lightly.
The mental and physical preparation for an 'armed experience' should not be undertaken in a perfunctory manner.  There are times when it's good to have fun whilst training – and there are other times when you must be as serious as possible.  However, before I go through some of my experience, I think it's important that we look at the whole question of self defence.
In an interview in August 2006 with Jamie Clubb, I talked a little about self defence.  I took a particular position on the subject and believe it's relevant to this article:
It's natural to try and get through life without any hassle.  At Seni 06 when I did my seminar, I noticed how many people listened to me talking about street fighting.  Some people just want to know how to knock someone out easily; where to hit and how hard etc.  There are a million techniques and lots of clever ways of doing things, but street fighting is very simple.  To be good means lots of hard purposeful training and 'bottle' and an experienced teacher that's understands this; will help you no end.