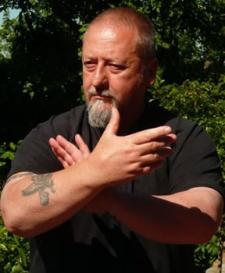 The Shi Kon Training System was devised by Steve Rowe 8th Dan Karate 3rd Dan Iaido, 2nd Dan Jodo, 1st Dan Ju Jitsu and International Tai Chi Teacher, it is the culmination of his 40 years of Martial Arts study and teaching all over the world.
Steve has taught self defence and good mental and physical health to all manner of law enforcement and security personnel and lectured and taught many health professionals. He has also taught thousands of children over 40 years with many of them now bringing their children to the Shi Kon clubs.
Most people that start martial arts training want to be fit and healthy and be able to look after themselves; the Shi Kon programme fulfils those needs with a fully integrated mind/body synergistic, carefully planned training system that caters for beginners right through to the 6th and 7th Dan 30 year practitioner.
'With Shi Kon you can be assured of the best quality tuition and
most carefully planned training programme to fulfil your needs'
---
KUNG FU KIDS
Kung Fu Kids is a training system designed around the needs of children and fully integrated with the physical education in their school curriculum. Kung Fu Kids is taught in many local schools as a part of their education programme to give children the unique benefits of martial arts study, leading up to an introduction to local club training. You do not need school training to join the local club directly.
A typical class session will consist of warm up skill games and exercises, basic and combination techniques, form and anti bullying, self esteem, safety or stranger danger training that will all help with their moral, social and cultural development. All classes are run in a safe, happy, enthusiastic and vibrant style.
---
MARTIAL ARTS FOR ADULTS
Our adult curriculum is specifically designed to meet the training needs of the modern healthy adult. Students will get fit, lose weight and learn to defend themselves moving on to the deeper, more traditional levels as they progress. The curriculum includes:
Kickboxing
Close quarter combat
Power striking
Grappling and pushing hands
Locks and throws
Groundwork
Moving on to the traditional deeper levels of Kung Fu and Karate training.
---
TAI CHI
Our Tai Chi curriculum is designed for anyone of any age, we use the most modern coaching methods to interpret and teach the ancient arcane knowledge of the Chinese to many local groups including Age Concern, Extend and Health 4 Life and in local schools including the teachers.
The curriculum includes:
Chi Kung (qigong) exercises
Meditation
Breathing
Posture
Proprioception and Kenesis skills
Form
Pushings Hands
Applications
Weapons
---