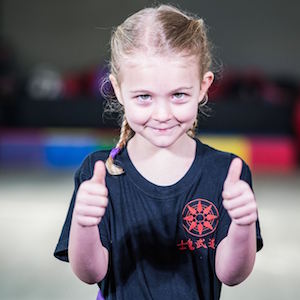 Our Kung Fu Kids classes are fun and engaging sessions for children aged between 4 to 12 (5 to 12 at Elephant & Castle, Lee, Sidcup and Swanley). These classes are designed to be fun, lively and friendly. Your child will learn social skills, good manners, discipline, confidence and the skills to help them defend themselves!
In class your child will follow an innovative syllabus designed to teach them how to lead a happy healthy lifestyle. Through their training your child will learn all they need to know about Martial Arts and to set them on the road to becoming a Black Belt. As they progress through the curriculum they will build a broad range of physical and life skills including anti-bullying, stranger danger and meditation.
All of our classes are run in a fun and engaging way with a strong emphasis on self discipline, good manners and creating a positive learning environment.
Our fully qualified black belt coaches are passionate about helping children to develop their fitness and life skills.  The health, safety and welfare of each child is of paramount importance so every coach has an enhanced disclosure and must adhere to strict child protection guidelines. All of our coaches are fully insured to teach children.
Please click on a link below for more information on Kung Fu Kids classes in your area.